Migraine Headaches
Do you suffer from migraine headaches? What do you do to handle the pain?
Most people who deal with these headaches on a regular basis have developed their own way of handling them. One of the most popular is turning out all the lights, taking a couple of pain killers and crawling into bed.
But did you know that there is actually a natural way to handle migraine pain? If you 'd like find out more – read on.
Although no one is certain, most migraines seem to be caused by glandular imbalances, stress, tension, foods like chocolate, alcohol and caffeine, food colorings and additives like MSG and medications like birth control pills. If you can find and remove the triggers that are affecting you, it will help you prevent getting future migraines.
Now that's a good first step, but there's more that you can do.
The next step is to improve your diet. Reduce processed foods and fast food meals and increase the amounts of fruits, vegetables, whole grains and fatty fish that you're eating. You should be sure to include whole grain rice, wheat and soy. Don't be fooled by white rice, enriched wheat, and genetically modified soy. They offer NO nutrition and do more harm than good.
Moving on now to the fruits and veggies. You should be eating between 5 and 13 servings every day. And, things like fruit juices or fruit roll-ups, which are all sugar, or iceberg lettuce, potatoes, bananas or apples don't count.
Rounding out a good whole food diet includes low fat dairy products, eggs and lean meats, preferably chicken and fish, but especially fish.
Fatty cold water fish like salmon, tuna, mackerel, sardines and anchovies are rich in omega 3 fatty acids, which may help decrease the pain and frequency of migraine headaches no matter what the cause.
And finally, adding a quality fish oil supplement like Salmon Oil Plus to your diet can make a HUGE difference with your migraine problems – even if you suffer from ocular migraines. Studies show that omega 3 fish oils may have incredible anti-inflammatory properties.
Choices are good and those with the most choices win. Consider the suggestions above as a natural choice for migraines and give them a try. You just might find yourself enjoying life the way you know you can and wouldn't that be nice?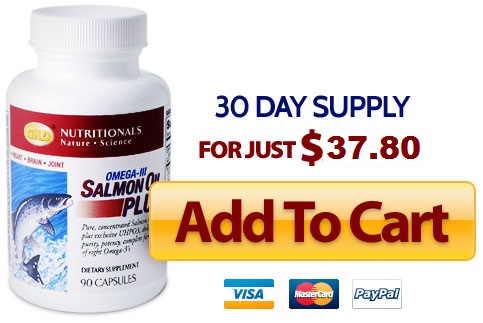 Our Guarantee – We offer a 100% money-back guarantee, no questions asked.
Simply return the original bottle for an exchange or full refund.
Would You Like More Information?
Call us toll-free at (888) 508-1234 to order today or Order Online

HWW Enterprise Group
353 Carolina Mtn. Dr. #188
Franklin, NC 28734
Email: bewell@havegoodhealth.net