What You Should Know
About Fish Oil & Omega 3
Bottom line – they're very important! Seriously, we could stop right there and essentially have said all that needs to be said. You obviously have some idea of their healthy importance because you've taken the time to learn more about them.
Here's the thing – most of us already know the benefits of fish oil and omega 3s. You'll see them in every magazine and newspaper, hear them mentioned all over TV and radio and find them everywhere on the internet.
But – and this is significant – the majority of consumers don't know the important inside story of what they are, where they come from and how to get safe results. Or, why it even matters.
What Does All This Mean To You?
Everyone's going to say their fish oil product is the best. After all, why be in business if you're not? And sure, they're going to give you all sorts of reasons why. But the cards are stacked against you. Most companies know you know very little about omega 3 fish oils or what makes a great product that'll produce results.
Don't let another company take advantage of you. Learn what you need to know to choose the right product for you and your family.
Click to see "The 3 Top Tips For Choosing Omega-3".
Get The Benefits Pure & Simple
Omega III Salmon Oil Plus is the only supplement that provides all 8 members of the Omega 3 family and is guaranteed to be naturally free of all toxins and heavy metals. Our sources are screened for more than 160 contaminants with an allowable detection limit of ZERO.
This guarantee is backed up right on the label by Dr. Gordon Newell and Dr. Arthur Furst (considered "the world's leading toxicologist" by the World Health Organization). Both of these scientists are former presidents of the prestigious American College of Toxicology.
Salmon Oil Plus is lightly pressed from only the flesh of wild, health screened, disease-free salmon that live in the cold, clean waters of the Arctic Circle region of Norway.
And, for greater heart, brain and joint health, we also provide our exclusive UHPO3 concentrate, derived from clean, healthy tuna, sardines and anchovies. Through our unique "molecular differentiation" technology, we optimize specific nutrient molecules, while eliminating others (like those that cause belching), delivering unsurpassed potency and purity.
Each serving of Salmon Oil Plus – the first fish oil supplement of its kind – provides a balanced spectrum of all 8 omega 3 family members involved in human nutrition. You're guaranteed 460 mg EPA, 480 mg DHA, 50 mg DPA and 80 mg of mixed omega 3s, including SDA, ETA(3), ETA, HPA and ALA.
And, if you can find anything comparable to Omega III Salmon Oil Plus (which we seriously doubt) and you were to compare the cost of daily dosages you would find our price is even better. It's also much safer and has only 1/5 the calories at just 1/3 the cost of an equivalent serving of wild salmon.
So if you're ready to experience healthy living with omega 3 fish oil, give it a try. You'll look and feel noticeably better within the first 30 days. And Omega III Salmon Oil Plus is guaranteed to give you the results you want or your money back – no questions asked. You can order now by clicking on the button below or calling us toll free at (888) 508-1234.
Questions? Call us now at (888) 508-1234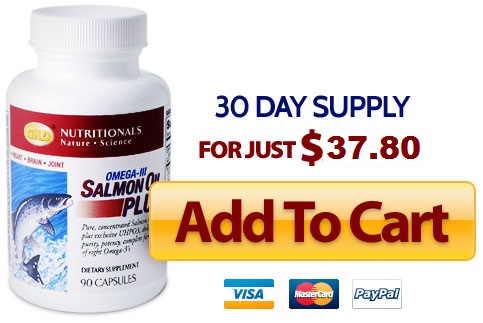 Our Guarantee – We offer a 100% money-back guarantee, no questions asked.
Simply return the original bottle for an exchange or full refund..
Would You Like More Information?
Call us toll-free at (888) 508-1234 to order today or Order Online

HWW Enterprise Group
353 Carolina Mtn. Dr. #188
Franklin, NC 28734
Email: bewell@havegoodhealth.net