Something Fishy About Omega 3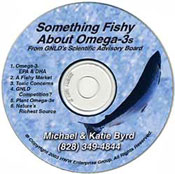 Call us toll-free at (888) 508-1234 or complete the form below and we'll send you the link to our Free 20 minute online audio.
You'll hear how the fish oil industry has evolved from fertilizers and pet food to human supplementation. And, you'll learn the important steps taken with Omega 3 Salmon Oil to safeguard and enhance your health.
Learn More About Omega 3 Fish Oil With Our FREE Audio
Would You Like More Information?
Call us toll-free at (888) 508-1234 to order today or Order Online

HWW Enterprise Group
353 Carolina Mtn. Dr. #188
Franklin, NC 28734
Email: bewell@havegoodhealth.net