Arthritis, Inflammation & Omega 3
If you're one of the more than 23 million Americans who have rheumatoid arthritis or osteoarthritis, you probably already know that Rheumatoid arthritis causes inflammation of the joints. In severe cases, this inflammation can even cause joint destruction and functional disability.
Many rheumatoid arthritis sufferers have difficulty with every day things like walking, getting dressed, fixing dinner and doing household chores.
Now if any of that described you, wouldn't you be interested in taking the most effective, natural pain reliever for your arthritis?
Since there's no known cure for rheumatoid arthritis, you may find relief by finding a solution that will reduce joint inflammation and relieve pain and stiffness. However, many common arthritis medications can have serious unwanted side effects.
One possible way to reduce inflammation is to make sure you're getting plenty of omega 3 fatty acids in your diet. Omega 3s are most abundant in fatty fish like salmon, tuna, sardines and anchovies. Some feel that by increasing your dietary levels of omega 3s, that you may reduce inflammation and find some relief from pain and stiffness in your joints.
Salmon Oil Plus is the world's finest ultra high potency fish oil, complete with standardized amounts of all eight omega-3s, with guaranteed purity. We use a proprietary molecular differentiation process to concentrate the beneficial omega-3s while screening for over 200 potential contaminants with an allowable detection limit of ZERO.
This sophisticated process also helps reduce fishy taste and smell so when you use Salmon Oil Plus, you can be sure you're getting a pure, natural salmon oil that will provide all the benefits and whole food goodness of one of nature's richest sources of omega-3 fatty acids.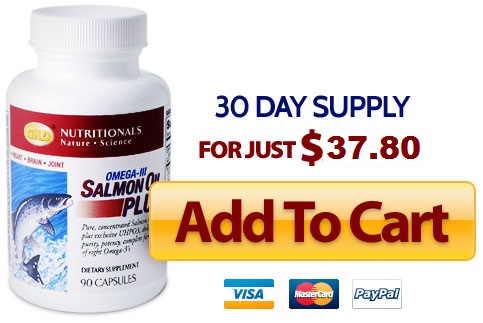 Our Guarantee – We offer a 100% money-back guarantee, no questions asked.
Simply return the original bottle for an exchange or full refund.
Would You Like More Information?
Call us toll-free at (888) 508-1234 to order today or Order Online

HWW Enterprise Group
353 Carolina Mtn. Dr. #188
Franklin, NC 28734
Email: bewell@havegoodhealth.net